At first glance, Hilton's price match guarantee looks like it can turn a better deal found on «insert any booking site here» site into an incredible deal booked directly with Hilton. However, the reason Hilton can offer such generous compensation (an additional 25% off the room rate of the "better deal") is because they are very hard to find.
Luckily, claims can be submitted risk-free and are processed quickly. If a decent candidate for a price match arrives in your browser, there is no harm in following these steps to test your luck. For the benefit of PointHeads everywhere, we tested the price match guarantee using a stay at the Hilton Los Cabos Beach & Golf Resort.
What Makes a Match
The devil is often in the details, and Hilton's price match guarantee is no different. The definition of a lower qualified price excludes an offer with different accommodations or terms. This allows Hilton to slightly adjust terms (e.g. adjust the cancellation policy) in order to offer discounted rates through other booking services. In the eyes of the price match guarantee, the discounted rate is a completely different type of booking.
Here are the criteria for a lower qualified price. The farther you can make it down the list, the more likely you are to succeed.
Hotel: If it isn't the same hotel, you have no chance.
Dates: Another clear filter.
Room Type: Suite vs standard rooms are obvious, but bed types are critical details.
Room View: Language differences like "partial" vs "full" can quickly disqualify.
Number of Guests: Different default values between sites can lead to a frustrating DQ.
Payment Due: Is payment due at the time of booking or not until arrival?
Cancellation Policy: How long can you cancel for a refund, and are there any fees?
Included Amenities: Saving the most vague for last. Any difference in the offered amenities (wifi, breakfast, etc.) can disqualify a match.
Once you get to number of guests and below, it might be very hard to verify a match based on information available in a third party website. It may be even harder to justify a change in price based on any differences in those areas.
Unfortunately, the price match guarantee is not there to justify pricing, only to identify if a better price exists with the exact same terms. And Hilton has the power to interpret whether those terms are the same. Hilton only allows one claim per reservation, so choose your "better deal" wisely.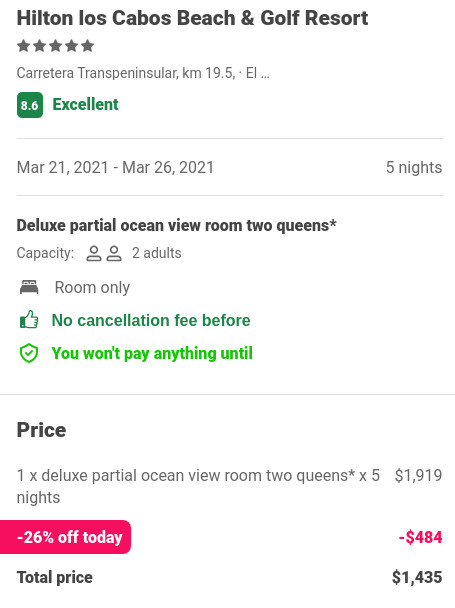 Screenshot from payment page on https://www.stayforlong.com/. How would Hilton interpret the vagueness of the payment due date, cancellation fee, and lack of included amenities? For a potential 25% off the already discounted price, it doesn't hurt to find out if this is your best match.
Pictures or it Didn't Happen
With the internet trending toward personalized and limited-time offers, it is plausible that a deal that shows up immediately for you may not even appear for someone else. Capture as much evidence as you can about the better deal.
Screenshot the page showing the most details about the booking. If possible, copy the url of the page that sends you to that offer. If you can get back to the deal through a url, chances are better that Hilton will be able to find it.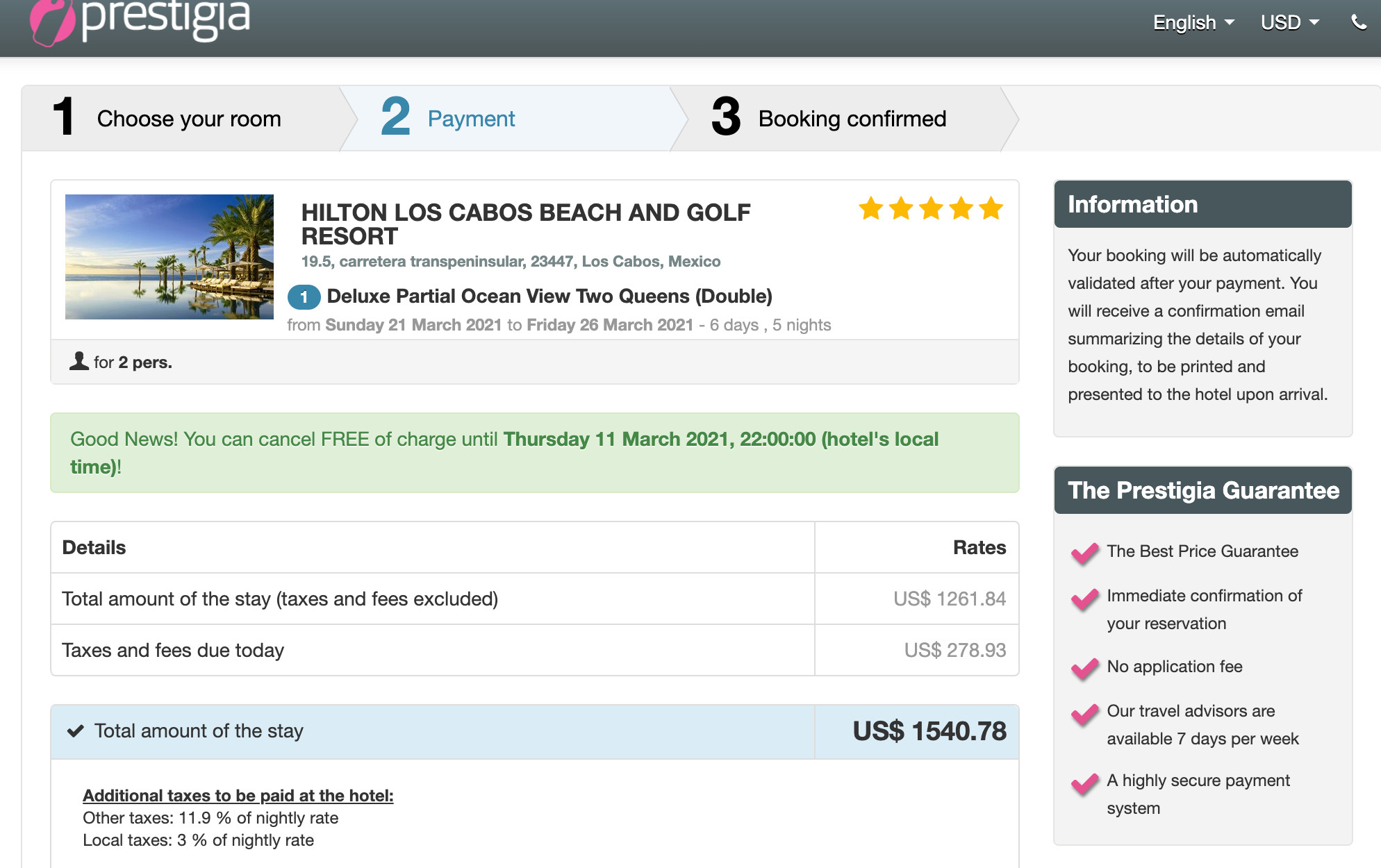 In our experiment, we used a better offer from Prestigia. It concretely checked more of the price match qualification boxes than the one from Stay For Long above.
Decision Time
With your evidence gathered, it's time to make an important decision: submit the claim before or after booking on Hilton. While this may seem like a no brainer, there are pros and cons to both. Both cases process quickly. In less than 24 hours you will have a decision.
Claim before booking: Call 1-800-445-8667 and submit the claim verbally.

Pro: This is absolutely risk-free, as you will have a decision before deciding which offer to book.
Pro: If the representative has a hard time finding the better offer, you can walk through the steps to find it.
Con: You have to talk to a person, which can be very time consuming as well as uncomfortable/frustrating for some.

Claim after booking: Submit an online form.

Pro: With a confirmation number, the form will pre-fill all fields related to the Hilton offer. You can submit the evidence you collected regarding the additional deal more easily.
Pro: You don't have to wait idly while Hilton processes the request.
Con: You may be booking a room just to cancel immediately if the decision doesn't go your way.
Con: Hilton policy is to validate the claim within 24 hours of submission. You may be waiting anxiously for a decision.
If the cancellation policies are generous (i.e. ample time to cancel the booking without penalty), the online form is a more efficient method1. Hilton can do the work on their end without you having to wait on the phone. With booking and canceling easy to do online, this is probably the preferred approach for many.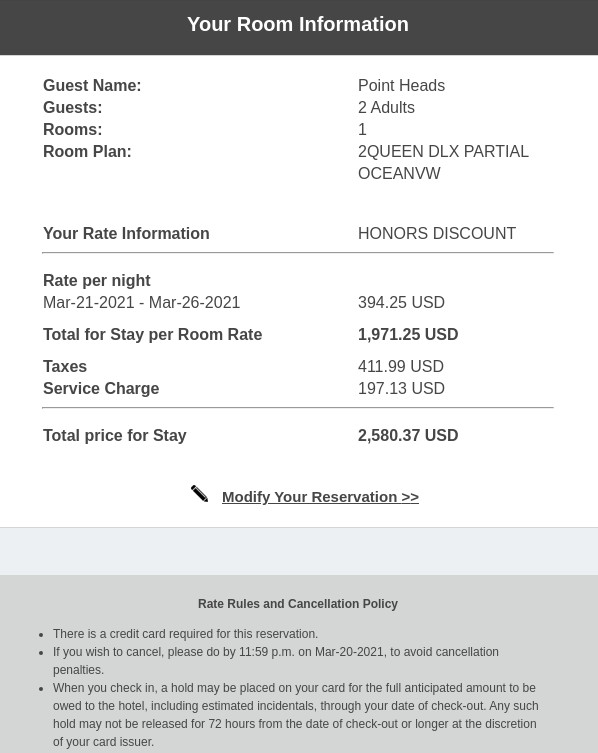 In our experiment we had plenty of time to cancel, so we booked the room first to have a more hands-off process with the online form.
State Your Case
If you found a legitimate contender for the price match guarantee, chances are it isn't too easy to find. Hilton will likely come back with a response like the one we received (only 15 minutes after submitting our claim):
Regrettably, I am unable to honor your claim as it did not meet the criteria to qualify for the Hilton Price Match Guarantee.

In reviewing your claim, I was unable to find a lower rate $1540.78 through the mentioned www.Prestigia.com. Please feel free to share any additional information, including screenshots from the 3rd party website, as a response to this email.
This is where your initial evidence collection pays off. Send over the supporting information and see how they interpret it.
Marching On
Once Hilton is able to find the better offer, it is out of your hands how they will interpret it. On the phone they will give you the decision instantly. Online, it may be a bit longer.
In our experiment, we received a decision 13 minutes after sending the requested screenshot. The difference in the cancellation policy was pretty obvious, and that's the one they picked up on to disqualify the claim.
Thank you for your e-mail and screen shot. The lower rate carries a different much more restricted cancellation policy, while, the booking made by Hilton has a 24 hours before arrival cancel term.
It is very unlikely that Hilton will change their mind once a decision has been made. Remember, they are only determining whether the offers are the same, not whether one price is justified based on differences compared to the other price2.
When you get that final decision, go with the best offer (remember to cancel the booking you don't want!) and focus on enjoying the vacation. Either way, you should have a better deal than initially presented on Hilton.
Bonus Points
Of course, if you have been following along with our lesson's learned, you may also consider whether you could have a better deal paying with points bought during one of Hilton's frequent "buy one get one" promotions.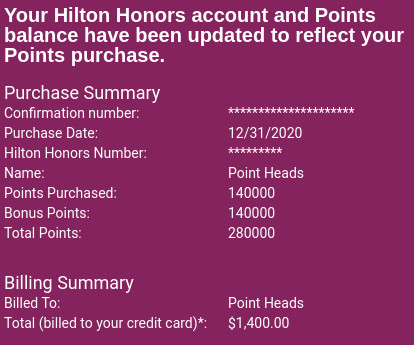 In our experiment, after the price match was rejected, our best offer with cash was $1,435 from a site with vague details about the booking. The five night stay only required 280,000 points, or $1,400 worth of points strategically purchased during the buy one get one free promotion at the end of the year.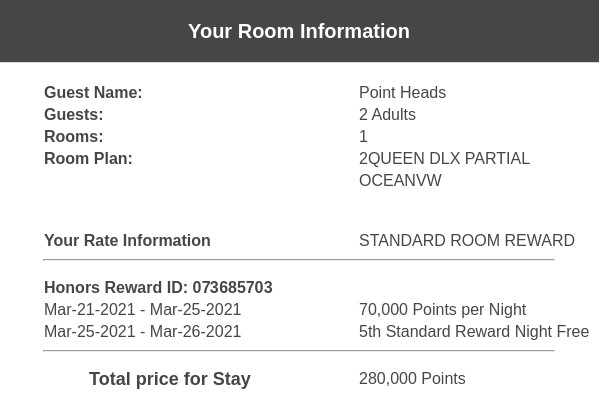 Screenshot of e-mail from Hilton Honor's verifying the booking with points. Even if paying $1,400 for the full amount of points, this is a clear winning strategy in our experimental situation.
Details about the online form submission process (and an example of a rare success story!) can be found at Frequent Miler. ↩

We could argue forever whether 9 extra days to cancel a booking justifies an extra $1,000 in booking fees, but that isn't the responsibility of the price match guarantee as long as Hilton isn't offering a booking with the same cancellation policy. ↩